In my artist practice, two statements are of inspiration:
[..] There are angels. These messengers who never remain enclosed in a place., who are also never immobile. [..] angels would circulate as mediators of that which has not yet happened, of what is still on the horizon. Endlessly reopening the enclosure of the universe, identities, the unfolding of actions, of history. Ethics of Sexual Difference, Luce Irigaray
"Angels tell of another incarnation, another parousia of the body. Irreducible to philosophy, theology, morality, angels appear as the messengers of ethics evoked by art, -sculpture, painting or music- without its being possible to say anything more than the gesture that represents them." Ethics of Sexual Difference, Luce Irigaray
The always opening of identities, universes, questioning "truth", taking of layers of so called reality, critically assessing language, labeling, the mechanisms of power and capitalism behind them..is what drives me.
a little personal background. I was for more than 20 years working as an accountant, obtaining title after title..Master of Science, Executive Master of IT-Auditing (EMITA), registeraccountant (RA), register EDP-auditor (RE), Certified Internal Auditor (CIA), Certified Information Systems Auditor (CISA).. But at some point I realised that life (at least my life..) should not be about titles, nor control, frameworks or standards. Most of these issues are fed by fear and capitalism anyway. I started to undress.
Went to the art academy, where more than art and "how to make art", I was caught by philosophy, Deleuze, Nietzsche..a never ending world opened.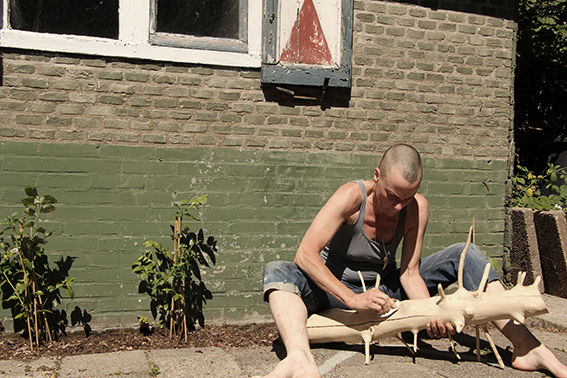 I undressed more. Stepped away from binary society codes and hetero normative rules, a body is a body, not to be labeled by "man" or "woman" including its cultural, historical (powerrelated) connections. Actually, we are much more than bodies. Unfortunately bodies are most of the time a point of connection for capitalist, political mechanisms to control it, supported by the society, social media, the focus on ego. That make us forget about our sensitivity, about the art, the poetry we have in us, we are all angelic.. That make us forget about nature, the beauty of it but even more, the "wisdom" in it.
And now? I dedicate my life to art, to art education, my Engel Academy. Moved to live and work more in nature, in silence. And have, next to the art and education a wonderful job: delivering mail on my bike in the countryside.
contact: mail@p-luck.net